Energy For Life: Active Iron & B Complex Plus For Women
Active Iron & B Complex Plus for Women contains our ground-breaking iron capsule and a specially formulated Active B Complex Plus tablet with a targeted delivery system.
Active Iron & B Complex Plus for Women tackles tiredness and supports energy, all while helping you look and feel your best. It supports hormonal balance, cognitive function, immunity, healthy blood cells and oxygen transport, as well as healthy skin, hair and nails.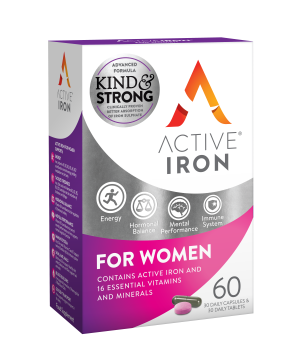 Buy Now
Formulated by scientists especially for women, our iron capsule is clinically proven to deliver x2 better absorption of iron than other iron tablets. It's non-constipating formula also ensures reduced gut irritation from iron. We made iron better so you can take an iron supplement daily to support your energy needs with less risk of gut irritation.
Want to know why iron is important for women? Read more here.
Our expertly designed B Complex Plus tablet has been specially formulated for use with Active Iron to optimise iron and mineral absorption.
Other multivitamins are often less effective due to the challenge of low amounts of essential vitamins and minerals. In addition, without targeted release the body struggles to absorb all the vitamins and minerals at the one time.
We have designed our Active B Complex Plus with high strength B Vitamins to have targeted release to ensure optimum absorption of all vitamins and minerals. So better absorption and kinder on your stomach.
Want to know more about how we made iron better? Read more here.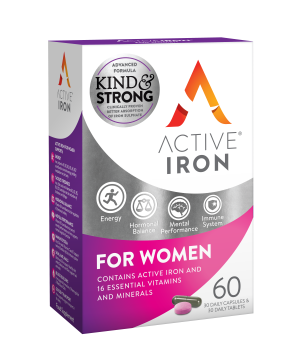 Buy Now
Grab a buddy.
This coupon code is valid for 25% off Active Iron & B Complex Plus for Women and Active Iron & B Complex Plus for Men. Coupon use is limited to two packs, so grab a buddy and make life better with tailored support for women AND men.

Active Iron Ingredient List
Whey (Milk) protein, Capsule shell: Hypromellose Ferrous Sulfate, Acidity regulators (sodium acetate, acetic acid), Vitamin C (ascorbic acid), Emulsifier (polysorbate 20) Capsule Colourants: Titanium dioxide, black iron oxide, yellow iron oxide.
Active B Complex Plus For Women Ingredient List
Bulking agent (microcrystalline cellulose, maltodextrin), Vitamin C (ascorbic acid), Vitamin B3 (nicotinamide), manganese (gluconate), Vitamin E (acetate), colorant E162, E171, gastro coating (ammonium shellac salt, glycerol), Selenium (L-Methionine), anticaking agent (silicon dioxide), Zinc oxide, vitamin B5 (calcium pantothenate), acidity regulator: stearic acid, Vitamin D3 (cholecalciferol), Vitamin B6 (pyridoxine), copper sulphate, Vitamin B1 (thiamine), Vitamin B2 (riboflavin), Vitamin K1, Chromium picolinate, Folic acid, Biotin, Vitamin B12 (cyanocobalamin & methylcobalamin).