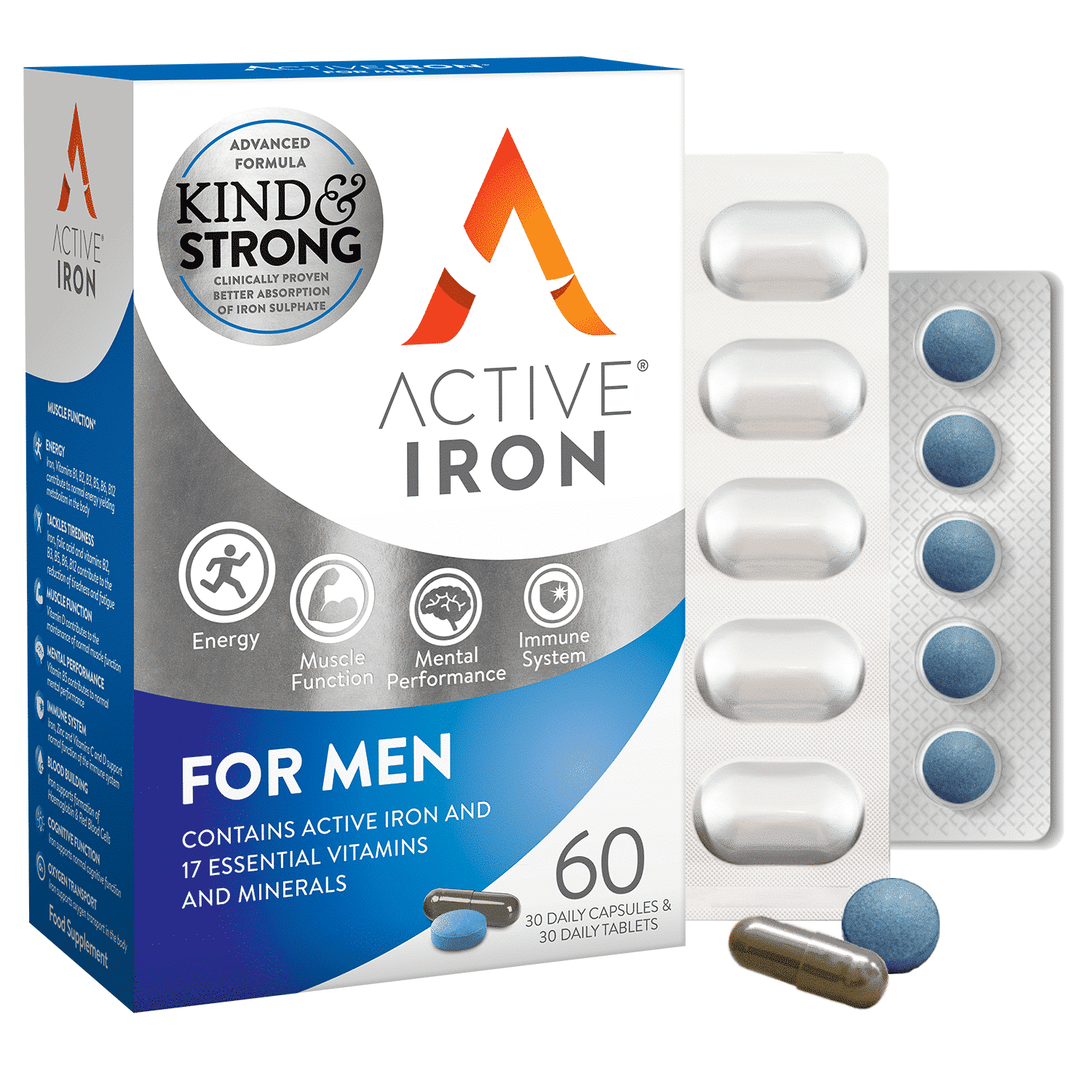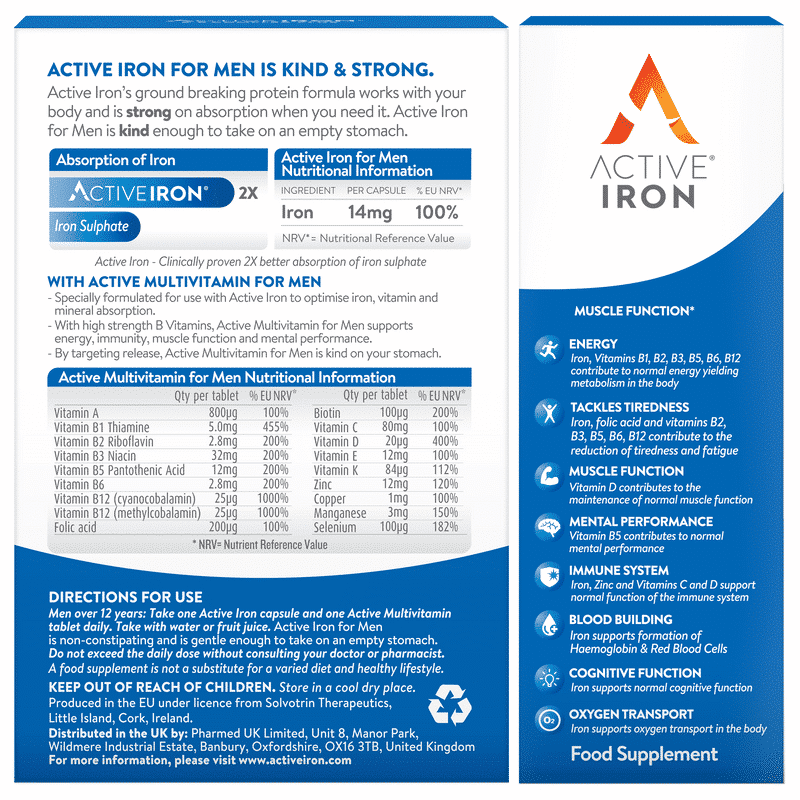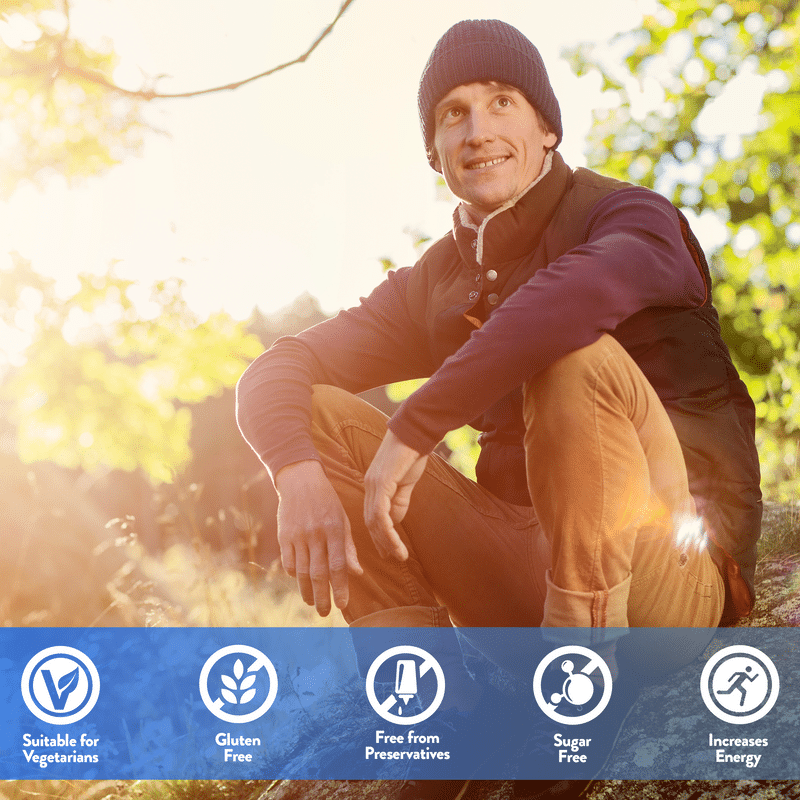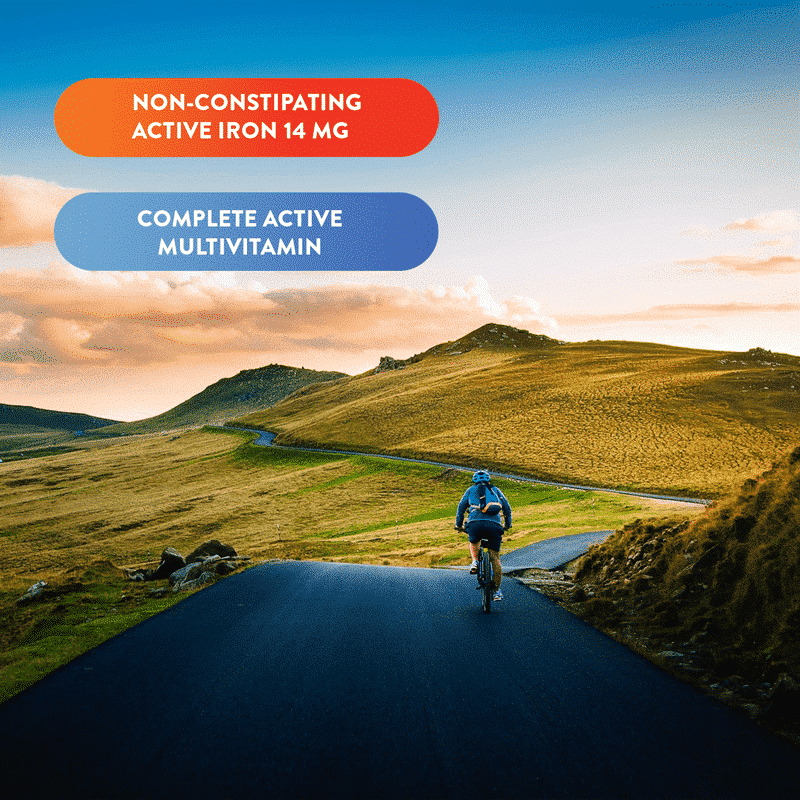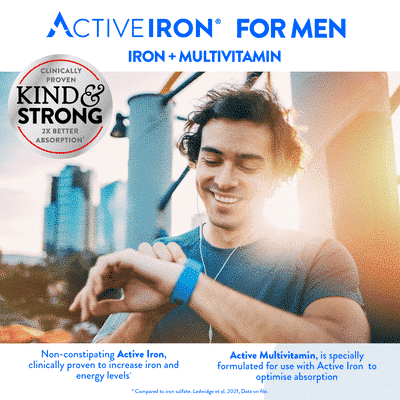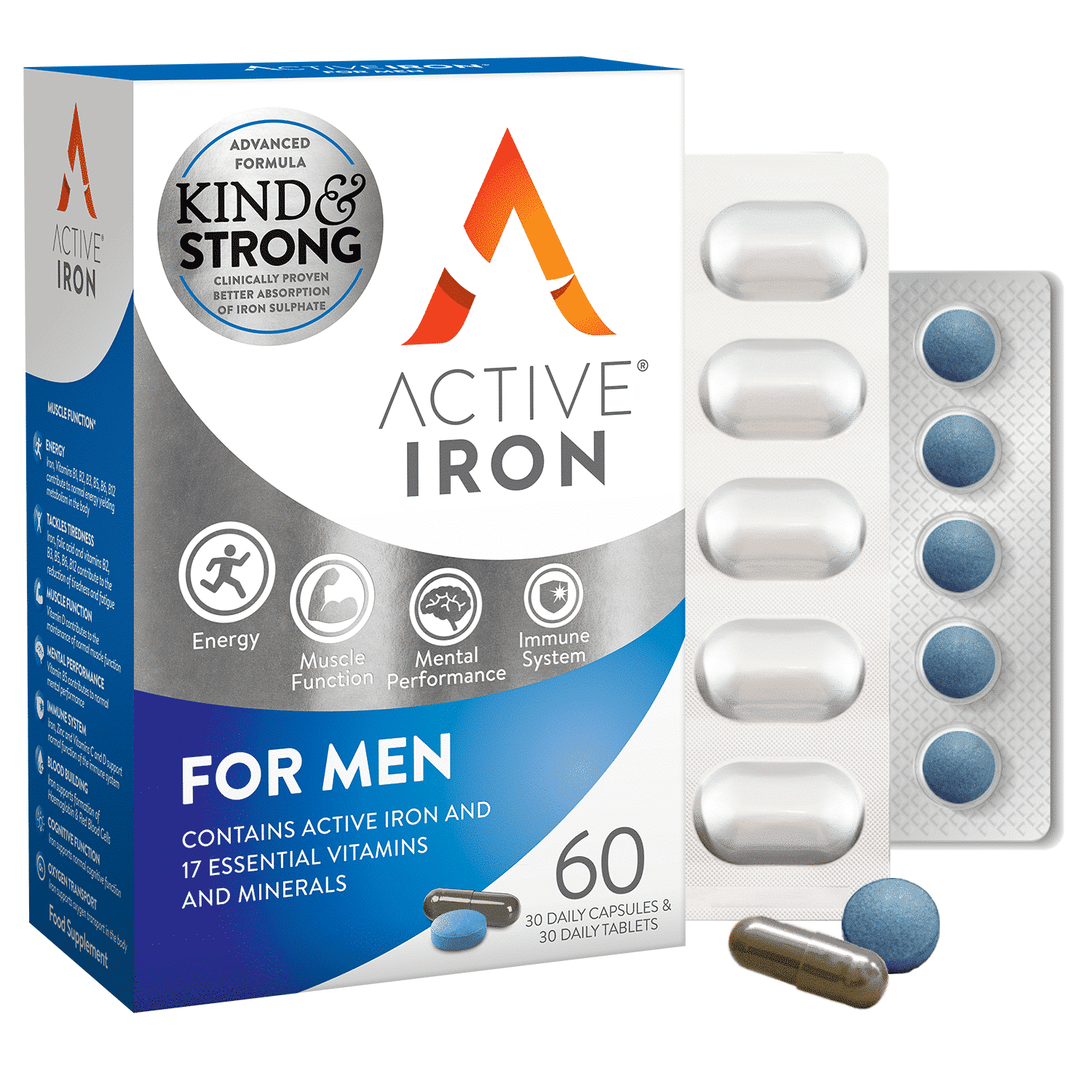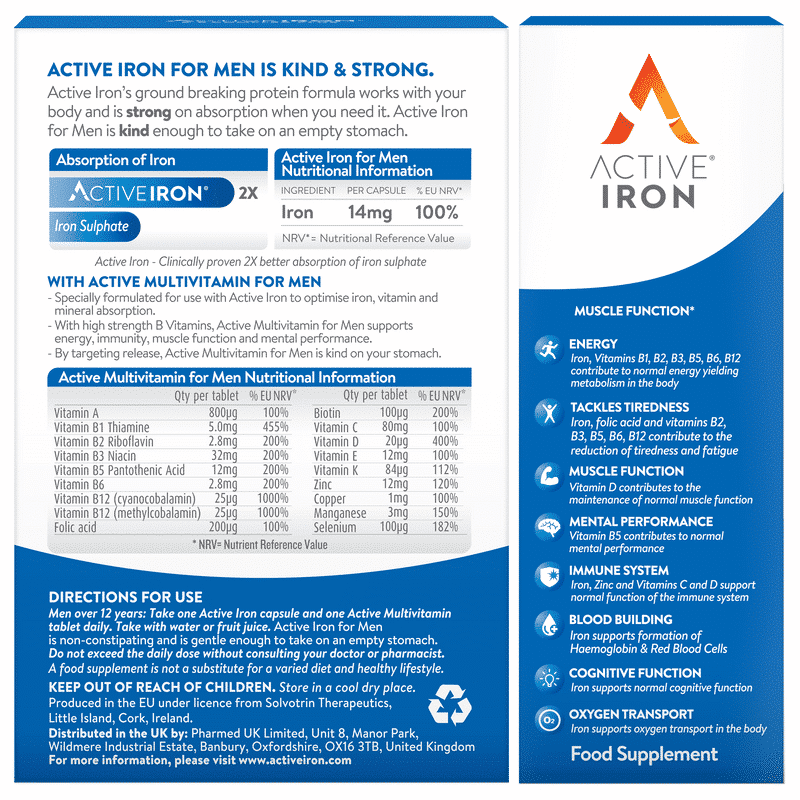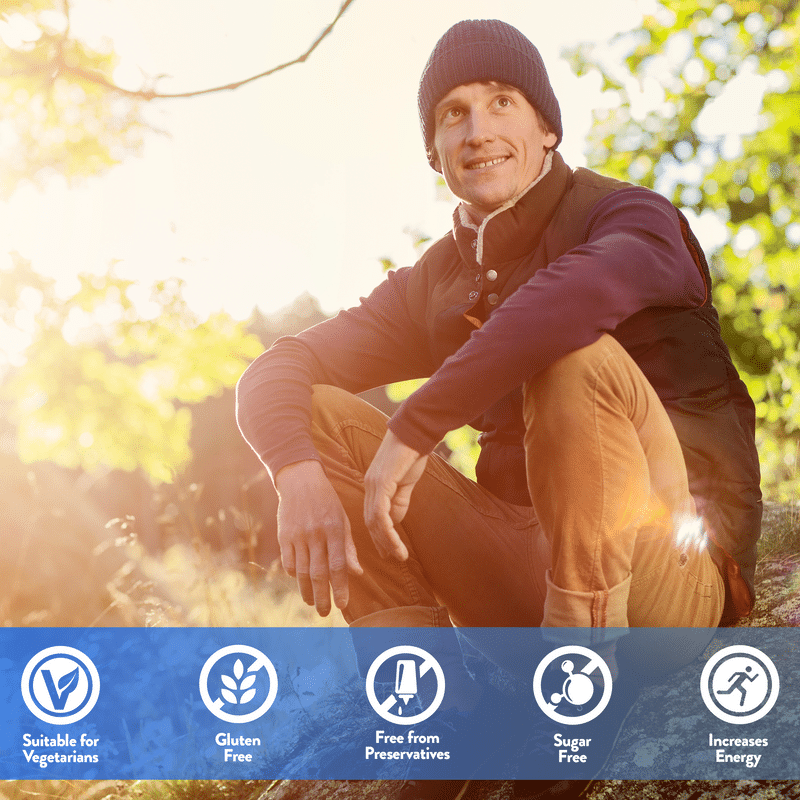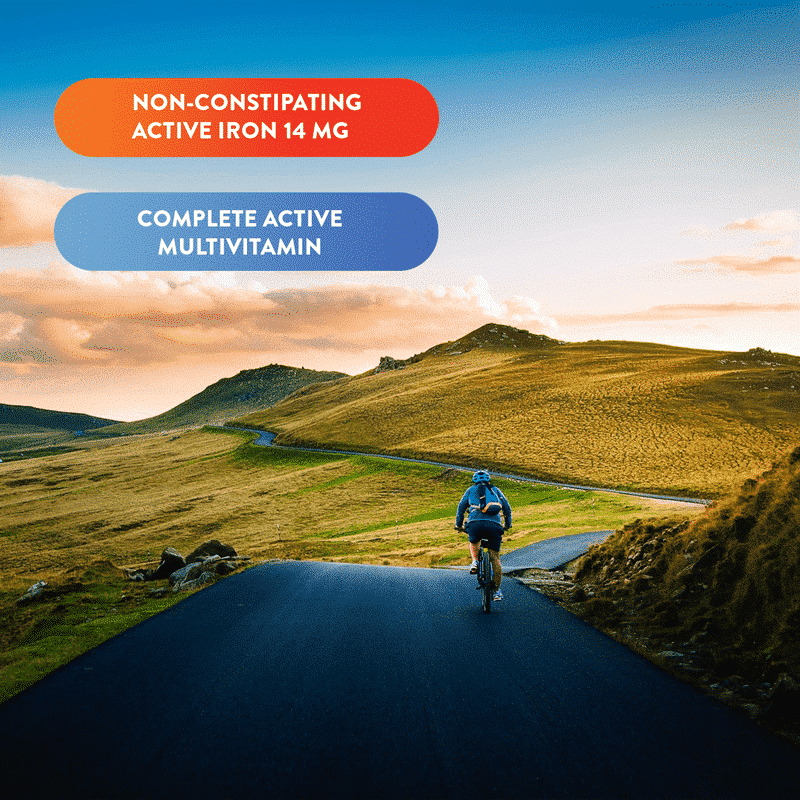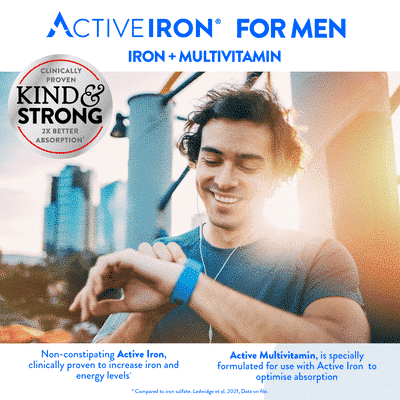 Containing 14mg iron plus a complete multivitamin tablet, Active Iron Men helps support iron level's and men's nutritional needs.
About Active Iron Men:
Providing complete nutritional support for men, Active Iron for Men contains two components:
Non-constipating Active Iron, is clinically proven to increase iron & energy levels¹. 
Active Multivitamin is specially formulated for use with Active Iron to optimise absorption. Unlike many supplements, Active Multivitamin with high-strength B Vitamins target release and works in sync with Active Iron.
Energy & Tackles Tiredness
Iron supports normal energy-yielding metabolism and the reduction of tiredness and fatigue.
Immune System
Iron, Zinc, Vitamin C and Vitamin D support normal function of the immune system
Muscle & Bone Health
Vitamin D contributes to the maintenance of normal muscle function, and Vitamin K, Vitamin D, Manganese, and Zinc, contribute to the maintenance of normal bones.
Mental Performance
Vitamin B5 contributes to normal mental performance, and iron supports normal cognitive function
Blood Building & Oxygen Transport
Iron supports formation of Haemoglobin & Red Blood Cells, & supports oxygen transport in the body.
Free From:
Artificial colours and preservatives.
Gluten
Sugar
Important Information:
ACTIVE IRON FOR MEN INGREDIENTS:
Whey (Milk) protein, Capsule shell, (hypromellose), Ferrous sulfate, Acidity regulators (sodium acetate, acetic acid), Vitamin C (ascorbic acid), Emulsifer (polysorbate 20), Capsule colourants (titanium dioxide, yellow iron oxide, black iron oxide)
ACTIVE MULTIVITAMIN INGREDIENTS:
Bulking agent: microcrystalline cellulose, maltodextrin; l-ascorbic acid (vitamin C), coating agent: shellac, hydroxypropyl methyl cellulose, spirulina, radish, apple, sweet potato and cherry concentrates, glycerol, microcrystalline cellulose, ammonium hydrogen carbonate; sodium selenate (selenium), nicotinamide (vitamin B3), d-alpha-tocopherol (vitamin E), cyanocobalamin (vitamin B12), zinc oxide, d-calcium pantothenate (vitamin B5), biotin, manganese gluconate, anticaking agent: silicon dioxide; cholecalciferol (vitamin D), thiamine mononitrate (vitamin B1), pyridoxine hydrochloride (vitamin B6), anti-caking agent: magnesium salt of fatty acid; copper sulfate, riboflavin (vitamin B2), vitamin K1, folic acid, flavour: natural mint; methyl cobalamin (vitamin B12).
DIRECTIONS FOR USE:
Men over 12 years: Take one Active Iron for Men capsule daily, and take one Active Multivitamin tablet daily. Take with water or fruit juice.
Active Iron for Men is gentle enough to take on an empty stomach. Do not exceed the daily dose without consulting your doctor or pharmacist. A food supplement is not a substitute for a varied diet and healthy lifestyle.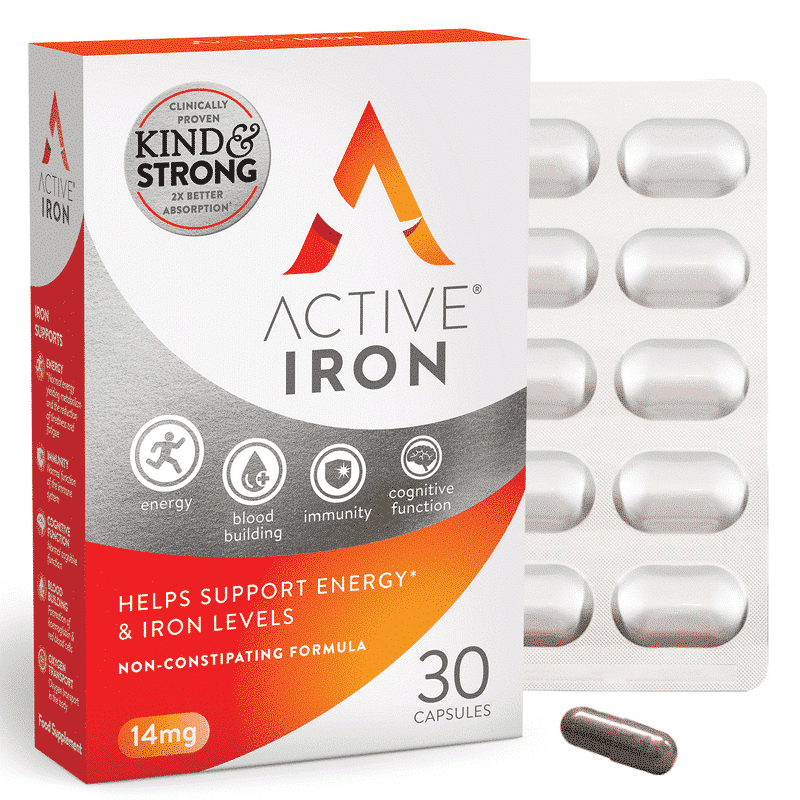 Active Iron
Best seller
Active Iron helps support iron and energy levels.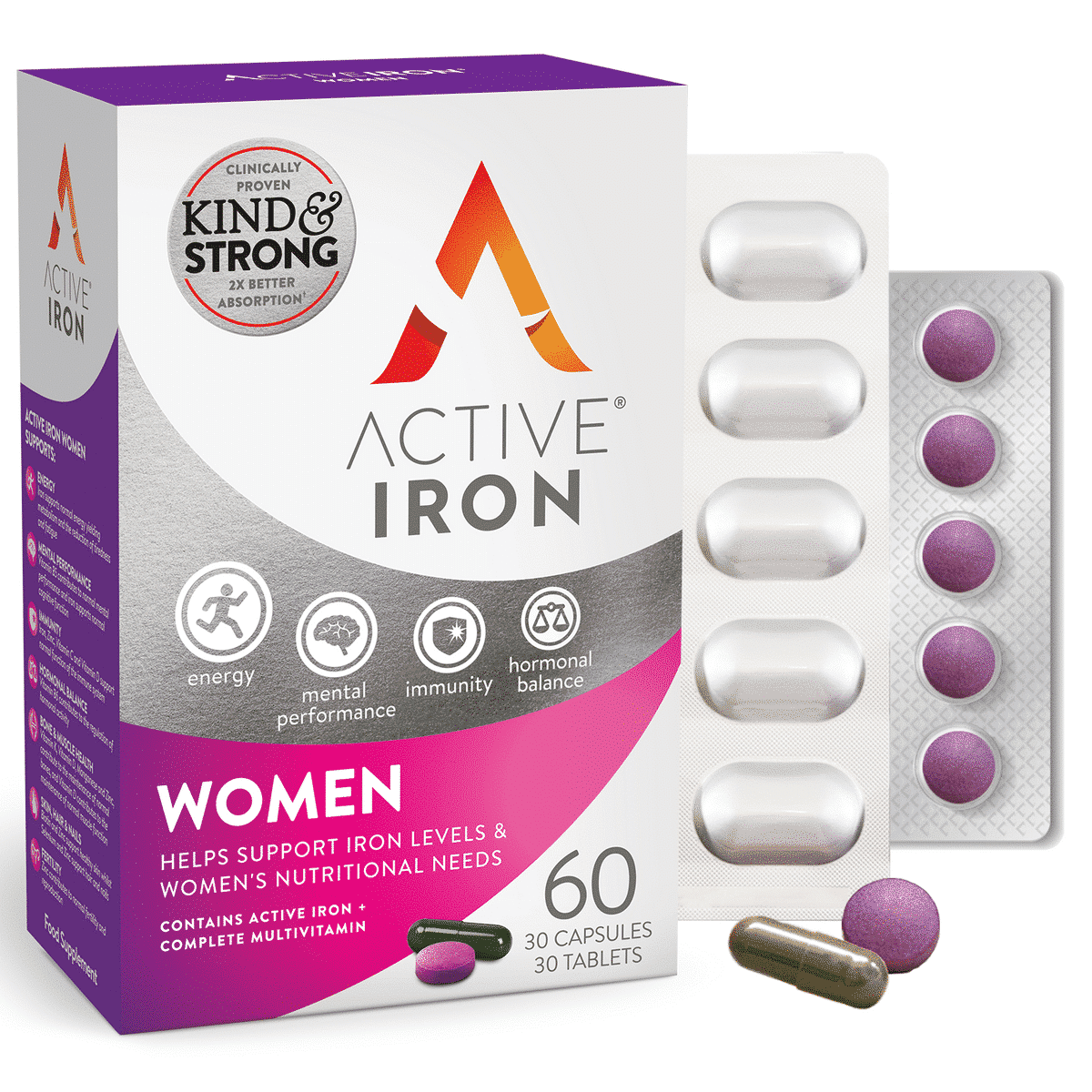 Active Iron for Women
Best seller
Active Iron for Women helps support iron levels & women's nutritional needs.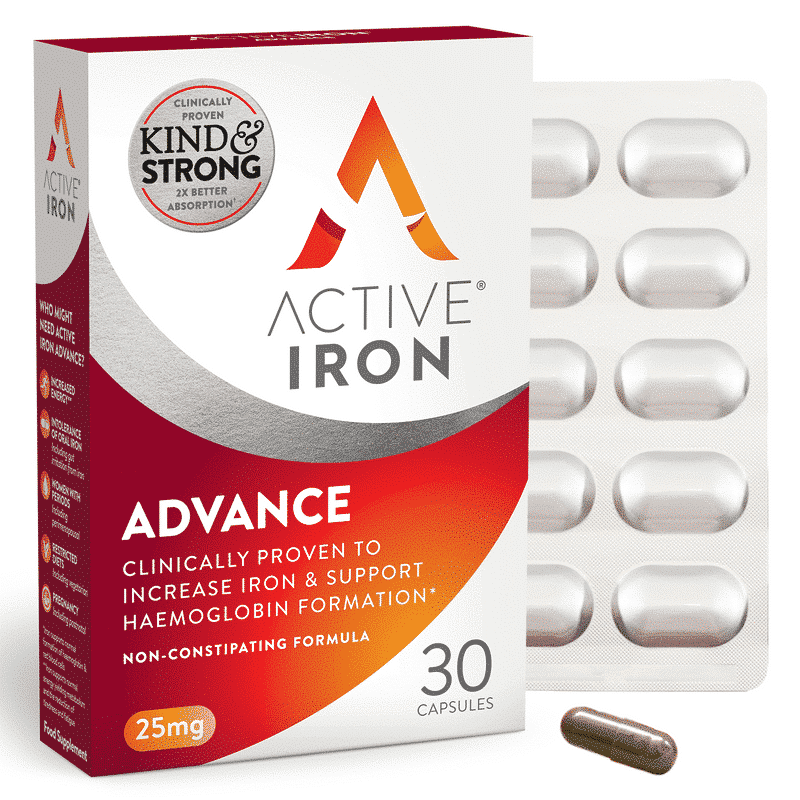 Active Iron Advance
Best seller
Active Iron Advance is clinically proven to increase iron levels.