Active Iron Supplements

We made iron better
What to look for in an iron supplement
Active Iron supplements were developed in response to the global need for an iron supplement that is both tolerable and easy to absorb. Before Active Iron the only solutions available were poorly absorbed and poorly tolerated.
Active Iron's Kind and Strong formula means that it is kind enough to take on an empty stomach, while being strong on absorption when you need it.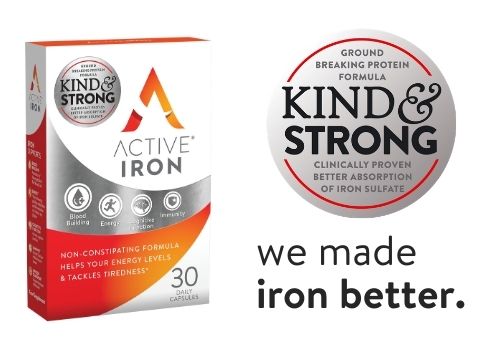 How to deliver the best iron supplement absorption?
By targeting the natural site of absorption (the small intestine rather than the stomach or lower intestine), Active Iron doubles the amount of iron absorbed compared to the gold standard iron sulfate. This means that more iron is available for your body to absorb.
Active Iron's advanced formula helps reduce inflammation which means it is non-irritating to the stomach. This prevents the unwanted side effects that are usually associated with iron supplements such as stomach pain, nausea, cramping, constipation and flatulence.
While iron supplements are not a substitute for a balanced diet and healthy living, Active Iron may help you achieve your daily iron needs. Active Iron works in tune with your body, targeting the natural site of absorption and delivering just the right amount of iron while helping to reduce gut irritation from iron.

Iron supplements for Women
Iron is especially important for women – particularly those of reproductive age – as women need up to twice as much daily iron as men.
Menstruation is the most common cause of iron loss worldwide. On average, women lose around 220 to 250 milligrams of iron per pint of blood during each menstrual cycle.  This makes it particularly important for women to meet their daily iron intake, which may be difficult to diet alone.
Pregnancy is a critical time for iron intake. The demand for iron increases threefold during pregnancy to meet the demands of the growing foetus and placenta as well as maternal adaptions to pregnancy. Maintaining a healthy iron level offers considerable benefits to both mother and baby.
In pregnancy the side effects of iron supplementation may be worsened by the growing foetus. A recent study confirmed that pregnant women are also more likely to report side effects when taking daily iron supplements. Active Iron Pregnancy's non-constipating formula has been specially designed to support iron levels throughout pregnancy.
Women who enjoy endurance exercise such as running, rowing, cycling, triathlons or those with a high training load need iron to maintain and support energy. Active exercisers also have a need for additional nutrients which is why we have specifically developed Active Iron for Women.
Iron supplements for Men
Men can also have low iron levels. This can be a result of a variety of reasons including insufficient dietary intake, particularly for vegetarians, or those with health conditions that result in malabsorption.
It can also be a result of loss of iron due to exercise especially for those with a high training load. Iron is used by the body's muscles to help produce energy. It is required for formation of haemoglobin (blood) and myoglobin (muscles) for oxygen transport around the body and muscles cells.
Athletes who enjoy endurance exercise (e.g. running, rowing, cycling, triathlons) need iron to maintain and support energy. There is also a need for other essential nutrients which is why we have specially formulated Active Iron for Men.
Active Iron is certified with Informed-Sport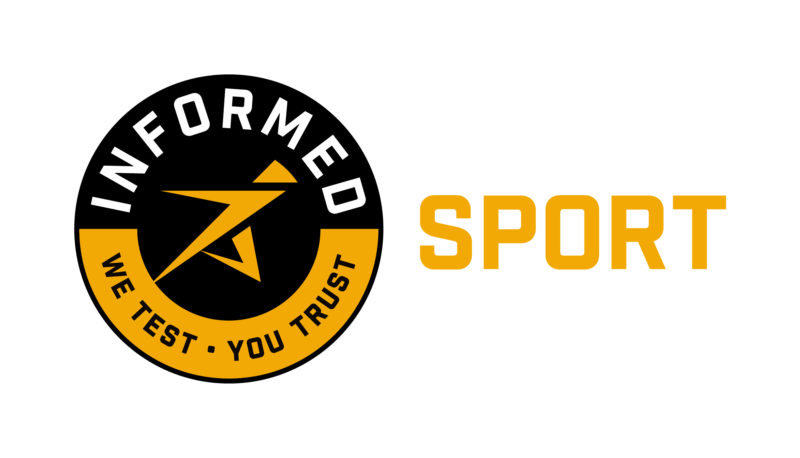 The Informed-Sport programme provides assurance that products have been tested for a wide range of substances prohibited in sport. Every batch of this product is tested for banned substances under the Informed-Sport programme.
Products undergo rigorous testing using ISO 17025 accredited methods to provide the highest level of assurance for athletes. For further information about the testing process, please visit informed-sport.com
Iron Supplementation and the Immune System
Active Iron supplements can help strengthen your body's natural defence system, your immune system. Iron is closely linked with the immune system and if you don't have enough iron, your immune system may not work normally.
Many of us don't get enough iron in our diet which can leave us in poor health. A good balanced diet, along with a healthy iron intake is essential for optimum immune function.
Active Iron's ground-breaking protein formula is specially designed to be Kind & Strong, allowing you to support your iron levels and help maintain a healthy immune system.
Active Iron Ingredient List
Whey (Milk) protein, Capsule shell: Hypromellose Ferrous Sulfate, Acidity regulators (sodium acetate, acetic acid), Vitamin C (ascorbic acid), Emulsifier (polysorbate 20) Capsule Colourants: Titanium dioxide, black iron oxide, yellow iron oxide.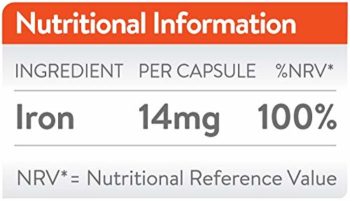 Real People - Real Stories