It's almost the 2019 London Marathon! The crowd taking part includes some of the best distance runners in the world, as well as non-athletes and of course some celebs. The line-up includes Chris Evans as he prepares for RunFestRun in May, we'll see you there!
We are rooting for Cian and Ian who will both be running the course for the first time ever (with some additional help from Active Iron and B Complex Plus for Men).
Cian and Ian are helping to raise money for SportsAid, the only national charity (#1111612) of its kind in the UK – which helps young British sportsmen and women aspiring to be the country's next Olympic, Paralympic, Commonwealth and world champions. We sponsored Bobby Clay last year through SportsAid, Clay is a 20-year-old British middle-distance runner who has osteoporosis.
Established in 1976, SportsAid focus purely on the next generation of young talented athletes, with the likes of Mo Farah and Paula Radcliffe amongst the beneficiaries.
"I remember my first time ever getting support from SportsAid, how big it was and how far it went. We have to recognise the hard work SportsAid does. They are very good at support and finding the next generation of athletes, like myself in the past." – Sir Mo Farah, four-time Olympic Champion.
Cian O'Regan is a budding triathlete and regular at Quest. We are excited to see him cross this finish line – but it certainly won't be his last! Cian has been taking Active Iron for Men as a part of his training. If you want to support Cian please visit his fundraising page here »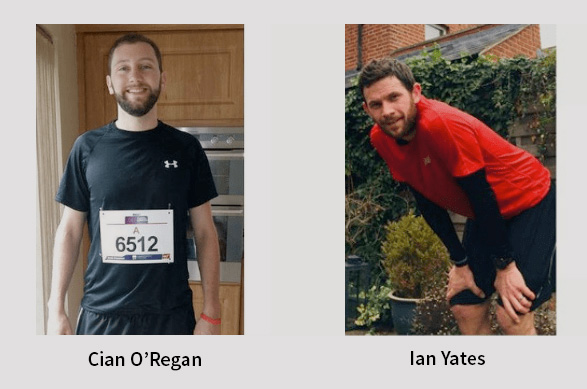 Ian Yates has always had a passion for sport and he hates the idea that sports talent is lost or wasted, especially when simply down to a lack of available resources, this is where SportsAid can help. Ian has been taking Active Iron for Men to support his rigorous training schedule as he balances work, family and training.
"I now plan to drag myself round the streets of London to raise money for this charity, demonstrating to everyone that I'm neither an elite or young talent….but with your support, my mediocrity will help those that are!" says Ian. You can support Ian and visit his fundraising page here »
In the run up to the big day, check us out at the Virgin Money London Marathon Running Show at the ExCeL where we'll be available to discuss all things iron. It's a great place to soak up the atmosphere and entry is free. Catch the Experts' Show at the Center Stage to gain invaluable advice for your final preparations and get you feeling Race Day ready! See you soon!